Want to bring your team closer together in a unique and original way? In a VR team challenge, you get to work together and get to know each other and the team better in a playful way!
Want to bring your team closer together in a unique and original way? In a VR team challenge, you get to work together and get to know each other and the team better in a playful way!
N

Choice of 50+ experiences
Get to know the team better with VR
Are you looking for an activity with a bit more depth? Connect with your colleagues and get to know each other in a different way by playing VR games together! We have the perfect team building activity for both large and small groups. The activity is suitable for all ages and therefore fun for everyone!
Can be combined with other activities or lunch/dinner/drinks. We come to your office or any other location. Our VR experts will provide an exciting, safe, and enjoyable team building experience.
Do you have specific wishes? There are many possibilities, so please do not hesitate to contact us! Together, we will make sure that Virtual Reality is the perfect addition to your teamouting
"The team outing with 35 colleagues with you was simply fantastic. There was plenty of room for everyone to play the games.
14 people stood around having fun playing various games. Beatsaber, walking on a plank and laser gaming. We had an extremely good time.
"What a fun activity! The people from VR Op Locatie really make it a party. Highly recommended for a fun activity with a group (colleagues)!"
What VR experiences are possible?
Test your teamwork with various VR collaboration games! Can you completely rely on your friends or colleagues?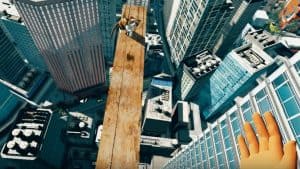 Even the real daredevils will feel their feet getting warm from our "face your fears" games. Do you dare to try it?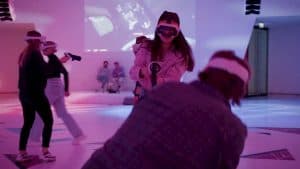 Battle against your colleagues with our own VR laser game and run completely freely on an open playing field up to 10x10m!
Have you always wanted to watch a cool video in 360 degrees? Then this is your chance, with VR you can watch all videos with a 360-degree view!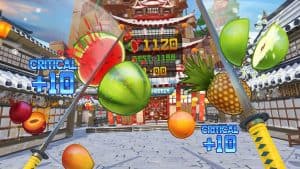 Looking for a slightly more accessible VR experience for everyone? These games are easy to understand for young and old alike!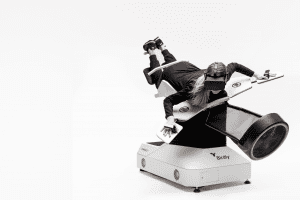 Want one of the coolest VR simulators at your event or corporate event? Our simulators allow you to recreate the most realistic experiences.
fake
Can you combine virtual reality team building with a lecture or workshop about VR?
This is definitely possible. Our VR experts can provide various lectures or workshops about (the application of) VR. Please contact us for the possibilities.
Can you combine this virtual reality team building with other activity?
Of course! The VR activity is often combined with lunch, dinner or drinks. We often consult with a relevant (catering) establishment about how and where we can have the VR activities take place.

Can the VR experiences also be played in English?
Yes, this is definitely possible!
How can you use VR experiences for team building or team development?
Wanneer je de 'samenwerking'  gaat spelen, moet de groep op een effectieve manier samenwerken en communiceren. Hierin zie je vaak direct terug welke rol elk teamlid (onbewust) speelt en of dit effectief is. Dit levert vaak naderhand leerzame gesprekken op. Uiteraard adviseren we jullie welke het beste aansluiten bij het (team)doel.
When you start playing the 'collaboration' VR games, the group needs to collaborate and communicate effectively. In these, you can often see immediately what role each team member is (unconsciously) playing and whether this is effective. This often results in instructive conversations afterwards. Naturally, we advise you on which VR experiences are best suited to the (team) objective.
Leave your information and we will get back to you to discuss your unique situation, provide advice and a customized quote.